Conservatory and glass house ideas
.

.
A conservatory can add a wonderful space to relax and entertain in. A mix of botanical prints, a patterned tiled floor and natural materials create a look that brings the outside in.
FURNITURE Aluminium side table, 60 x 40cm diameter, and armchair, 87 x 61 x 56cm, £3,000 for a set of two chairs and a table, from Talisman. Rattan cafe armchair, 'Cezanne' (natural leaf and black), 102 x 62 x 61cm, £199, from Drucker. Zinc-topped oak table, 'Sawbuck', 76 x 304 x 78cm, £4,140, from Matthew Cox. Rattan and plastic outdoor side chair, 'Isabell' (black and white), by Sika Design, 92 x 48 x 59cm, £180, from Designers Guild.
ACCESSORIES Ceramic lamp base, 'Sibyl' (spinach), £516, from Porta Romana; with antique silk shade, £600, from Guinevere. Porcelain side plate (on side table), 'Dahlia', e9, from Virebent. Cushions, from top: 'Moss' (charcoal), by Howard Hodgkin, cotton, £110 a metre, from Designers Guild. 'Aylsham' (L-219), cotton, £96 a metre, from Fermoie. Wicker-basket pendant lights, 40 x 56cm diameter, £130 each, from Original House. Fabric (under plant stands), 'Tuileries' (crème), by Verel de Belval, linen/polyester, £238 a metre, from Abbott & Boyd. Porcelain bowls (yellow), by Mud Australia, from £45 each; napkins, 'Leaf' (charcoal), by Howard Hodgkin, cotton, £110 a metre; tablecloth, 'Brush' (charcoal), by Howard Hodgkin, cotton, £110 a metre. All from Designers Guild. White stoneware, 'Cracked Slip Vase', by Matthias Kaiser, £200, from The Garden Edit. Chinese glazed yellow stoneware,'Lantern Jars', £800 each; Han dynasty stoneware Hu vase, £1,450; indigo-dyedlinen sheet (on chair), £360. All from Guinevere. Ceramic parrot incense holder, £98, from Plümo. Resin plate, 'Black and Snow Swirl', £120, from Dinosaur Designs.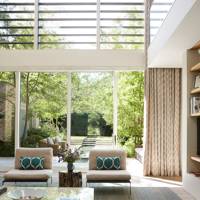 A conservatory can be a beautiful, airy part of a house, perfect for reading, eating, and lounging in the sunlight.
.

.