Coloring Book Embroidery – A Glorious Peacock!
.

.
As I contemplated writing today's article, the whole notion of "April Fool's Day" rattled around in my head.
I racked my brain for days, hoping to concoct an appropriate needlework-related prank to pull off on you.
But you know what I realized?
Any embroidery-related joke that I could come up with for Needle 'n Thread was just… too… crewel.
So I decided to skip it!
Instead, I'm going to share with you Karen's absolutely gorgeous embroidered peacock, taken from Johanna Basford's Secret Garden coloring book.
Remember my embroidered Secret Garden Hummingbirds from the same book? Well, Karen followed along with that project, working her own version of the peacock page. She kindly sent photos and all the details of her stitching adventure.

So, let's end the week with some inspirational embroidery and forget the whole April Fool's thing! Besides reveling in the colors and stitching, you'll find plenty of ideas to glean for your own embroidery projects.
If you want to view the photos larger, you can click on them – definitely worth it!
I'll let Karen take us through the details on her project. All the techniques she used for her project can be found in tutorial form here on Needle 'n Thread, so I've linked to all of them throughout her description.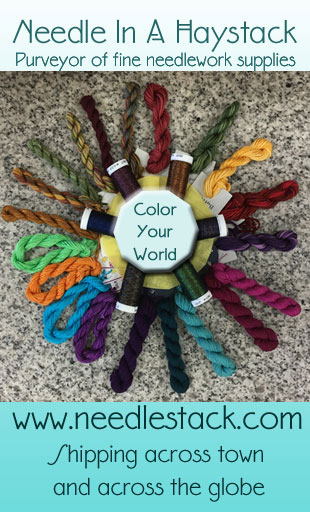 Over to Karen:
Because the design was so busy, I restricted the color palette and used shades within the same families. I also repeated the colors in different elements of the design. I chose the blues and greens based on the colors in the Sulky thread. The colors in the peacock itself are darker shades than those in the background. Also, because of the different filling stitches I used, the peacock itself became a mini-sampler. Here are the details, from the back to the front:

Background leaves:
Sulky petite 12 wt thread in Peacock (color # 4016)
The largest leaves and stems are in Hungarian braided chain stitch. The medium leaves are in whipped stem stitch (using the Sulky thread to do the whipping). The blue-green flower petals are detached lazy daisies. Their centers are French knots in Soie d'Alger 621 (light yellow) or 2622 (light orange).
Background tree branch:
I used Trish Burr's long-and-short shading techniques to do the branch in Soie d'Alger 3342, 3345, 3436. The little leaves are small straight stitches in different combinations of 2 strands of Soie d'Alger 212 and 1824. The flowers in the tree are 2-stranded lazy daisies in different combinations of Soie d'Alger 621 and 2622 (sometimes all yellow, sometimes all orange, sometimes mixed). Their centers are open.

Vine:
The branches of the vine are rope stitch in Soie d'Alger 3342. The small leaves are fly stiches in two shades of a flat green silk (as in the upper tail of the peacock); the silks were a gift, so I do not have a brand. The fan-like flowers are buttonhole wheels in Soie d'Alger 622 (a somewhat darker shade of yellow); the buds are also 622.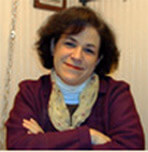 Peacock:
Head & neck — Silk shading in Soie d'Alger 114, 115, 116, 1445, 4915, 4916. At the base of the head (to separate it from the neck) is Soie d'Alger 202. The beak uses 2622 near the base, then 621. The peacock's topknot uses pistil stitch in 4916. The eye is padded satin stitch in the grey from the branch, 3342.

Wing & back & upper tail — Upper wing uses fishbone stitch, alternating columns between Soie d'Alger 114 and 1445. The lower wing uses stem stitch as a filling stitch, using the same colors as in the neck. The back uses very tiny lazy daisies as a filling stitch, using 202 (teal). The upper tail uses satin stitch in a flat green silk, with 114 and 116 as the eyes, and 202 as the backstitch outline. The fanciful ribbon-like part uses outline stitch and seed stitches in 4915.
Lower tail:
The shafts are backstitches in Soie d'Alger 1825 whipped with Accentuate metallic thread 360. (You can't really tell from the photos, but they are sparkly.) The eyes are satin stitch in Soie d'Alger 115, 4915, 2623, with stem stitch in 1825 around them. (The satin stitching is smoother in person than it appears in the photos — the lighting is sunlight from the side, and it is a little harsh.)

I tried four or five different ways of putting in the barbs of the feathers, including using Gutterman's sewing thread in different blues as a very fine thread. But they all detracted rather than added to the piece, so I decided I was better off with a more stylized design.

Tell me, is that not just a gorgeous piece of embroidery?! Exuberant! Gloriously textured, beautifully colored, and perfectly stitched!
Thank you so much for sharing the photos and details with us, Karen! Congratulations on finishing the peacock – it's a lovely piece!
What about YOU?
What are you stitching these days? Would you like to share a project with Needle 'n Thread readers? Did you learn any tips or techniques along the way that you'd like to share with the rest of the wide world of embroidery? Or do you have a particular story about a piece that you'd like to share?

I love including reader contributions on Needle 'n Thread! It's a great way to showcase what's going on in the world of embroidery, to share your interests and accomplishments, and to inspire fellow readers in our online community.

If you'd like to join in with a contribution, I'd love to hear from you! Just drop me a line and let me know what you've been up to with your needle and thread!
As I contemplated writing today's article, the whole notion of "April Fool's Day" rattled around in my head. I racked my brain for days, hoping to concoct an appropriate needlework-related prank to pull off on you. But you know what I realized? Any embroidery-related joke that I could come
.

.