Artist and maker Bridie Hall's north London house
.

.
It soon becomes clear, on arrival at her house, that Bridie Hall has a wondrous approach to living. A decorative artist and maker, Bridie has an eponymous line of accessories that brightens countless homes. She co-owns the interiors shop Pentreath & Hall with architect and interior designer Ben Pentreath, for which she also sources antiques. Like the best dealers, Bridie is a collector first, and it is her collections of unusual objects, coupled with her joyous sense of pure, strong colour, that makes her house so intriguing. 'It's an artist's home, not an interior designer's home,' she says, as a tortoise appears from under the kitchen sink.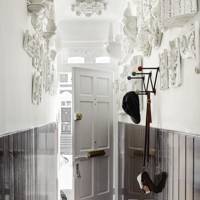 Born in New Zealand, Bridie has lived in Islington since arriving in London 18 years ago. She bought this stucco-fronted Victorian property in 2016. 'It's my moving-on house,' she says, referring to the break-up that prompted its purchase. 'I wanted somewhere I could exercise my aesthetic freely and inhabit the whole space equally.'
Advertisement
The lower ground floor has an open-plan dining area and kitchen, which leads to the garden via a walk-through pantry with, unusually, an adjacent shower room. 'I come down for coffee in the morning anyway so it fits with my routine,' she explains. A double living room takes up the ground floor, which is raised above street level. Above this, on the first floor, is Bridie's bedroom, a dressing room and a west-facing roof terrace, which in summer is bathed in sunlight from 10am until 8pm. There is a second bathroom – with a bath – in the attic.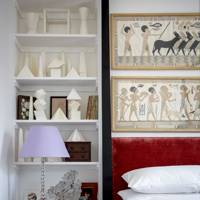 'The house hadn't been updated for 30 years so, while the floor plan worked for me, I didn't feel guilty about redoing everything else,' Bridie says. With the help of architect Manan Upadhyay from Ben's practice, which is known for combining classical detail with colourful, contemporary elements, various changes were instigated. The sitting room was opened up by removing a wall that blocked a window, and by expanding and squaring off the dividing arch; and a chimneypiece was brought down from Bridie's bedroom, creating a pleasing symmetry.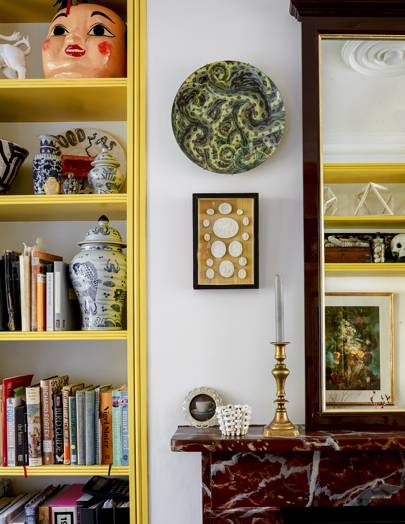 Read next This photographer's eco-farmhouse in Oxfordshire has the perfect modern rustic interior Gallery This photographer's eco-farmhouse in Oxfordshire has the perfect modern rustic interior
French windows were installed on the first floor so the roof terrace could be accessed through the dressing room rather than a window on the stairwell landing. Details were added, including skirting and cornicing throughout based on existing late-Regency cornicing, and the hall and attic bathroom were panelled. The kitchen is in 'typical Ben Pentreath country-house style', built around a 40-year-old Aga that was already there.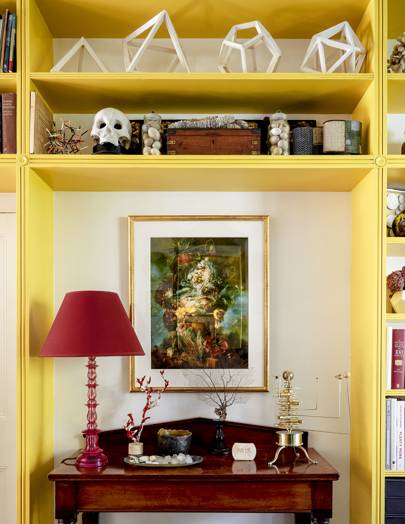 The whole transformation took eight months. Bridie – with her miniature poodle, cat and tortoises – moved in towards the end of 2017: 'The guy who came to pick up my packing boxes asked when the work was starting. I was thrilled – nothing looked new.' This included the contents, for 'moving on' does not have to mean 'letting go'. 'Everything that was mine before, everything that I bought during the relationship and everything that I liked, I kept,' she declares. Most of the furniture, from Victorian to contemporary – much of it from local auctioneers Criterion – travelled with her from her previous house (featured in House & Garden in March 2014).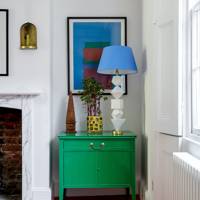 Her eye-catching collections, sourced from markets, dealers and Ebay, include Fifties miniature casts of the Elgin Marbles, a mix of death masks and Maori busts, Victorian shells, Egyptomania textiles (created after Napoleon's Egyptian campaign and the discovery of Tutankhamun's tomb in 1922) and more. Alongside are her own works: intaglio cases displaying tiny plaster reliefs of famous works or Grand Tour souvenirs, and intaglio lamps and découpage vases on her own prototype tables or cabinets designed with Ben. 'I regard Sir John Soane's Museum as the domestic dream but can't afford museum-quality pieces so I've made my own.'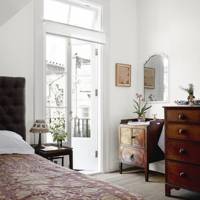 Advertisement
In keeping with the museum aesthetic, the effect is curated, not cluttered – achieved by several means. The busiest space, the west-facing half of the sitting room, has a sparser opposite, designed to be more restful. The walls throughout are in plain Dulux Trade white, and several are empty, including opposite Bridie's bed: 'I have such a visual life and mind, I find peace in these blank spaces – especially on waking.'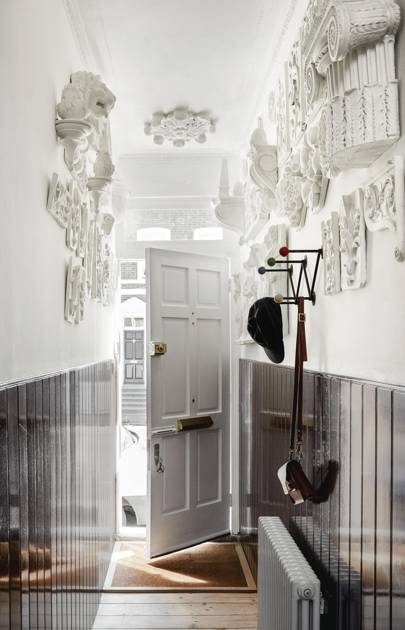 Upholstery and window dressings play a supporting role and are without frill, pelmet or pattern. Colour – 'it's instinctive for me' – comes in the form of painted woodwork, Robyn Denny screen prints and a kitchen floor partly in Dulux 'Hot Paprika'. 'The expanse makes it calming; it becomes background.' And all is arranged with its ilk. 'It allows the eye to travel in an informed manner,' explains Bridie. Finally, nothing she owns is forever, which prevents an inundation of possessions. 'And it's why it's so great to have the shop.'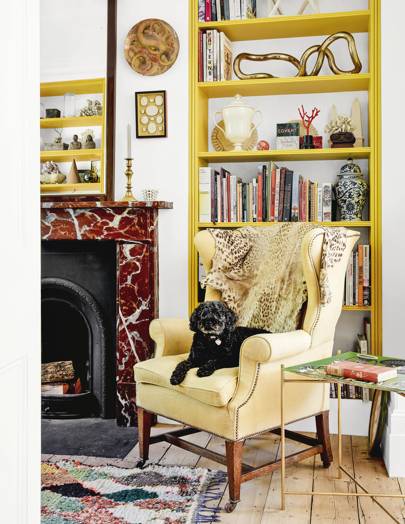 The thing that is permanent is her attitude. Bridie's collections extend to domestic items – early Victorian coffee cups and Irish linen napkins – which she uses daily. 'I collect because I'm fascinated by where things come from and why, and how they are made. But also because collecting is living with something bigger than yourself and culturally weightier. At the same time, you can't let it overwhelm. There are no rules any more, no saving the silver for best. We can live how we want, with what we love, in a way that bring us joy.' It's an uplifting edict – and one worth remembering.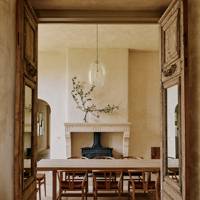 Bridie Hall: bridiehall.com
Pentreath & Hall: pentreath-hall.com
Artist and maker Bridie Hall has made her mark on her Victorian house in north London with eclectic collections of antique finds and her own eye-catching works set against bold blocks of colour.
.

.