5 Easy Sewing Patterns for Beginners
.

.
If you're just getting started in the world of fashion creation, I highly recommend experimenting with some easy sewing patterns for beginners. These more simple patterns will help you to better understand the process of creating garments. By selecting various easy sewing patterns for beginners you can almost guarantee that you get started with the basics, and not thrown in at the deep end.

To that end, if you're not sure about how to sew and are just thinking about getting started, check out my earlier post on learning to sew. You can get an idea of the history as well as the different types of sewing stitches.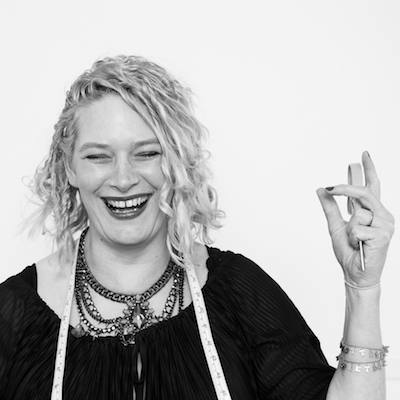 This means you'll be less frustrated in the beginning. Frustration mixed with some not so great outcomes, often means that we give up, in all sorts of disciplines, and that is the last thing I want to happen to you and your fashion creations!

If you're uncertain about getting started with sewing, do check this in-depth article on seams so you're on track with the first steps! 🙂

Sewing Pattern Brands: Thoughts
There are many, many pattern brands offering a multitude of different styles, sizes and skill levels. The big four pattern brands are Buttericks, Vogue Patterns, McCalls and Simplicity – with Mc Call actually incorporating Butterick and Vogue Patterns within their company.

However there are a growing number of small indie designers around the world, releasing patterns via their own websites as digital downloads, or selling them via a more traditional method in fabric and herbadashery stores.
Generally, the mainstream companies tend to offer the same styles, with new season lookbooks available to view and order from. They do have some heavy weight pattern cutters behind them, but I genuinely feel that these are neither stylish not fashionable.
As such, I personally feel that the patterns released by the Indies are more original in design and style, often coming from designers like myself looking to supplement their income with quality products.
Considerations when Looking for an Easy Sewing Pattern
First consideration when looking for an easy sewing pattern should be given to the simplicity of the pattern.
Is it easy to read?
Having a pattern that is well laid out is essential, because if you can't read the pattern, you'll end up making mistakes and being frustrated.
Is there information on the sizing available?
Patterns are usually 'graded' for multiple sizes, making it easier for you to find your size
Information is usually printed on the back of the pattern packet, or available in the 'more info' tab when buying PDFs
Using your measurements, check the pattern sizings available cover your size before buying
Again, it is usual for patterns to suggest what fabric types work best
They also tell you how much yardage of fabric you will require based on the size you will be making
Patterns don't generally tell you what tools you'll need. Pop over to my article on basic sewing tools and equipment.
How well marked is the pattern?
Pattern markings are the single most important thing to be aware of
Notches are matching points. They help you connect the pieces correctly, like a jigsaw
Grain lines guide you on where to place the pattern piece on the fabric
The cut number informs you of the number of pieces that need to be cut
Without good pattern markings, you'll struggle if you're a newbie!
Do you understand the markings used?
Is there a guide on the pattern as to what the markings mean?
Does it feel 'easy' to you looking at the markings?
Here's an in-depth guide on how to read sewing patterns.
Is it easy to sew, with simple seams for beginners?
What information is given regarding the seam allowances?
Are you able to work out what seams are open to you with the available seam allowance?
How many pieces are there to seam together?
If you need help knowing how to sew up a garment, do check out this 18 Step Sewing guide!
Are the directions clear overall?
Overall, do you feel like the pattern is straight forward and that you would have success using it? If it looks a little too challenging, highlighting techniques you haven't tried yet, it probably isn't the right pattern for you at this time.
Finding Easy Sewing Patterns for Beginners
There are so many patterns available both online and offline. A quick search on Pinterest will offer up lots of ideas too. You could even check out my Sewing Patterns Pinterest Board for inspiration, where I curate a vast collection of Sewing patterns of varying complexity.
To make things a little easier, I've collected a list of five easy sewing patterns for beginners that would make a great starting point.
Now, this list is not exhaustive. There are so many patterns out there that it would take forever to search them all. What this list is, is a go to list for stylish, fashionable beginner sewing patterns. We want fashionable, not fuddy-duddy, and this list is a great start.
My Top Five Easy Sewing Patterns for Beginners:
I searched over 200 free sewing projects online, and these were the ones that had any inkling of fashion style about them. I have no interest in showing you how to make clothes worn by everyone – there are a gazillion sewing pattern producers out there that can sell you those patterns.
My aim is to teach you how to create fashion pieces that are stylish. No old lady clothes here and no frumpy silhouettes either thank you very much. I may risk alienating a lot of people who are in my field, but I don't want to be the same. I want to be different, I want to offer you something different, because we all deserve to have some wow in what we wear!
These are my top five, free easy sewing patterns!
1: Wendy Ward's No Pattern T-Shirt
This t-shirt pattern is a super simple and easy 'no pattern' t-shirt or dress designed by the fab Wendy Ward. Wendy provides info on the amount of knit fabric you'll need, along with a diagram and photos too on how to sew it up. You will need to be comfortable using knit fabric for this.
If the thought of sewing with knit fabric terrifies you, Wendy has a great book all about using knit fabrics that was nominated as the best craft book in the 2018 British Sewing Awards. How amazing is that?
2: Sew4Home: PJ Pants
There's also this pattern – for comfy Pj Pants. While not technically fashion if they're bedroom items, I think 2016's trend for wearing silky PJ pants out and about makes this a worthy addition. And trousers are simple to sew, when you have the right pattern. I'd knock up a pair of these in a silky print and wear them with a fitted solid coloured top. What do you think?
3: By Hand London: Polly Top
I LOVE By Hand London patterns. This free top pattern from them is a very simple top, with a separate front panel. This eliminates any need for bust darts with gives a more fitted look. This is a free downloadable pattern from By Hand London, who have quite a few fab patterns available for sale on their site. My other favourite is the Victoria Blazer. And the Holly Jumpsuit.
4. So Sew Easy: Kimono Top
This kimono top pattern is a hit. Simple and easy to sew, and with sewing instructions too. It's free. Did I mention that? I love that it is a wrap kimono top! Great to sew with a crisp cotton for structure, or a drapey woven for something less adventurous! Boom!
5: Great British Sewing Bee Patterns
These patterns from The Great British Sewing Bee are not necessarily the easiest, but they're all free and a great way to try some high quality patterns for free!
SaveSave
Share to Pinterest or Facebook below!
Easy sewing patterns for beginners. Get my Top 5 recommended patterns here. The perfect way to get started sewing your fashion creations.
.

.