11 Gorgeous Garden Arbors Made From Old Doors
.

.
Projects that give new life to something old are always inspiring, and these garden arbors are no exception. Old doors can be made into beautiful pergolas or arbors for garden entryways.
I keep seeing these ideas floating around on Pinterest and found several for inspiration. Here are 11 gorgeous garden arbors made with repurposed doors.
The beautiful arbor below was a weekend project for these homeowners. It was made from salvaged doors sanded down and given a fresh coat of white paint. The top rafters were cut from 2′ x 8′ boards.
This is a beautifully simple concept utilizing doors that might otherwise have been tossed in the dump. See the process pictures on the Garden Web forum
Weathered doors with hanging flowers give this pergola a charming country appeal. It's perfect for a backyard wedding or as a permanent fixture in any garden or walkway. via Pinterest

Brian Patrick Flynn on HGTV Gardens created a great step by step tutorial on how to repurpose doors to make this simple garden arbor. Like the arbors above, this is an inexpensive and relatively simple DIY project.

Using decorative screen doors instead of wood doors can give an arbor a bit more of an elegant look, like this one from Designed on Sunshine. These doors were found for cheap at a reuse store.
Used metal storm doors are readily available for sale in online classifieds and at used building supply stores. Paint them white, add the top boards, and you have a cute and classy garden arbor!

A few little embellishments turn these old doors into a gorgeous arbor with a Victorian flair. This concept is so simple, yet the results are beautiful. The shelf supports added to the top corners here can be found in just about every style imaginable in home improvement stores. via Countingyourblessings on Flickr

This creatively beautiful arbor has several creative elements. I love how the top is made of wood stained to match the deck. The squares on the bottom half of the doors are made from dollar store picture frames. Beautiful! via Facebook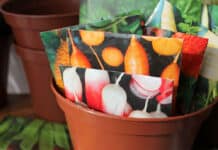 Glass french doors can easily be transformed into a little garden archway. Distracting Debbie found these for $8 a piece at a salvage store. You certainly can't beat that!
Here's another idea for using old glass doors as a pergola for a garden seating area. via Flea Market Gardening
Antiqued doors like these grace the entryway to a garden beautifully. The shabby chic look is ever popular, and the look is not difficult to achieve for DIYers. via Pinterest
This arbor from Under a Pile of Scrap is absolutely gorgeous – and made from yard sale storm doors! While finding a matching pair can be a challenge, it's worth the wait when this is the end result.
Add some bright colors and you can turn scrap doors into a functional garden showpiece. This one, from Habitat for Humanity, is a bright sunshine yellow that matches the front door of the house.
Projects that give new life to something old are always inspiring. Old doors can be made into beautiful pergolas or arbors for garden entryways.
.

.